Memorial to Adolf Erik Nordenskiöld
Adolf Erik Nordenskiöld (1832-1901) was an important Finnish scientist, an explorer and the first to sail the North-East Passage from the Arctic Sea to the Pacific Ocean. Nordenskiöld was born in Finland but had to leave the country for Sweden in 1857 because of his views on Russian politics, which were considered too liberal.
In 1858, Nordenskiöld was appointed the director of mineralogy at the Swedish National Museum of Natural History and the Professor of Mineralogy of the Academy of Sciences. In the same year, he made his first exploration to Spitzbergen. This was followed by the North-East Passage journey in 1878-79 and journeys to Greenland by sail in 1870 and 1883. Because he sailed the North-East Passage, A.E. Nordenskiöld is considered one of the world's most important explorers.
The memorial, comprising three connected granite slabs, was designed by the sculptor Heikki Häiväoja and the architect Eric Adlercreutz. The bust of Nordenskiöld included in the memorial was made by Johanna Häiväoja. The work also includes a relief map showing the route Nordenskiöld sailed through the North-East Passage.
The granite slabs symbolize icebergs and pack ice, the principal obstacles to regular traffic through the North-East Passage. The memorial was placed close to the sea as a reminder of Nordenskiöld's voyages. The memorial is 3.5 metres high.
Other works by Heikki Häiväoja include "Concrete Symphony", "Urbanist", "Cooperation monument" and "Memorial to Women in Times of War".
The work of art belongs to the collection of HAM Helsinki Art Museum.
Memorial to Adolf Erik Nordenskiöld – Service Map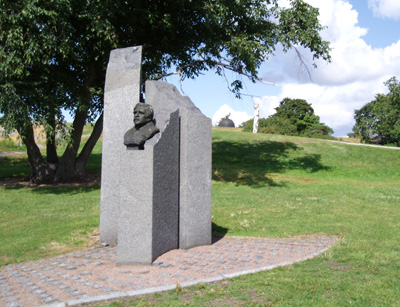 Eric Adlercreutz, Heikki Häiväoja, and Johanna Häiväoja: Memorial to Adolf Erik Nordenskiöld, 1985. You may not use this photo for commercial purposes. © Photo: Helsinki Art Museum