Kaksi Lasta, Äiti ja Lapsi / Two Children, Mother and Child
The head offices of the life assurance company Suomi were completed in 1901. The building was designed by two architects; Armas Lindgren who was responsible for the facade, and Onni Tarjanne who designed the floorplans. The massiveness of the progressively ascending facade is connected to the increasing monumentalism in the Kamppi district's architecture at the time. The facade includes three granite groups by Eemil Halonen. The piece above the main entrance depicts a woman and two children sitting. The other two pieces comprise a child each, a boy and a girl. Eemil Halonen was a forerunner especially in the use of granite and wood. He first trained as a carpenter and then studied at the Fine Arts Association's drawing school. His best years were early in this century when his humorous folk types made him famous. His later work in granite is marked by influences from architecture and Egyptian art.
The work doesn't belong to the collections of the Helsinki Art Museum.
Kaksi Lasta, Äiti ja Lapsi / Two Children, Mother and Child – Service Map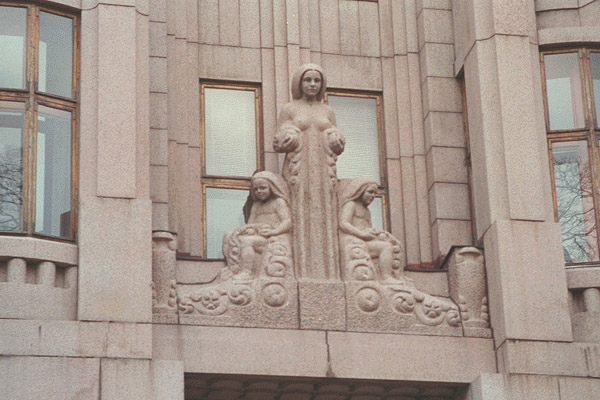 Emil Halonen: Two Children, Mother and Child, 1911. You may not use this photo for commercial purposes. © Photo: Helsinki Art Museum