Äiti ja lapsi, Tulevaisuus / Mother and Child, The Future
Although the "Mother and Child/Future" is a version of the work "Future" in the Parliament Building it is much more expressly classical: the figure is depicted as a torso in likeness to the original sculptures found in archaeological digs.
The particular location of the sculpture lends symbolic content to the work, expressing the fragility of happiness in motherhood. The naked and hurt female figure turns away from the viewer as if to hide her anguish. In contrast, the child held by the mother reaches towards the viewer with trustful openness and innocence. Aaltonen's sister Lempi, who was married to the author Aaro Hellaakoski, and their small son modelled for the piece.
The building was designed and built for the Federation of Mother and Child Homes and Shelters. The architect was Elna Kiljander who, through her husband sculptor Gunnar Finne, was closely connected with the art world. Already at the design stage Kiljander included a niche in the doorway. However, it was not yet known at the time what would be placed in it. The building was inaugurated on June 2, 1942. In the same year Aaltonen donated the sculpture to the Federation. Thanks to Miina Sillanpää, a member of Parliament and the head of the Federation at the time, the casting was financed by Kuluttajain Keskusosuuskunta (Central consumer co-operative) and Kansa Co. The work was cast in bronze by Artturi Halonen in Lapinlahti in 1943. Because of the damage suffered by the building in the night bombings of February 6-7, 1943, the piece was not placed in the niche until after the war.
In 1930, Wäinö Aaltonen won the sculpture competition for the Parliament's assembly chamber. The theme of the competition was "Work and the Future". Aaltonen's proposal comprised five allegorical figures, namely Settler, Intellectual Work, Future, Faith and Harvester. While the other figures were men, "Future" consisted of a woman and a child. According to 1930s ideals, Aaltonen made nude figures stylizing them in a classical manner. He sought to answer to the contemporary desire to show Finns as Western people, not Mongols, and to visualize the Hellas of the North, a fantasy the new nation used to build its self-confidence.
The work doesn't belong to the collections of the Helsinki Art Museum.
Äiti ja lapsi, Tulevaisuus / Mother and Child, The Future – Service Map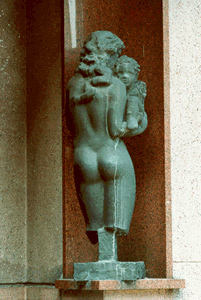 Wäinö Aaltonen: Mother and Child / The Future, 1945. You may not use this photo for commercial purposes. © Photo: Helsinki Art Museum