Aleksanteri II / Alexander II
Alexander II, Tsar of Russia and Grand Duke of Finland, inspired confidence in his Finnish subjects. Following his assassination in 1881, the estates organized a competition for a memorial in 1884. Every respected sculptor in Finland at the time participated. Johannes Takanen (1849-1885 ) won the competition by a narrow margin with Walter Runeberg (1838-1920) taking second place.Since the jury considered both entries extremely good, the work was given to both artists - as a joint commission.
However, Johannes Takanen died in 1885 leaving the work to Walter Runeberg. The competition jury had given especial praise to Takanen's treatment of Alexander's figure. On the other hand, the jury had from the very beginning been fascinated by the images Walter Runeberg had included in the pedestal in his entry.
Runeberg made the monarch's figure according to Takanen's proposal and added it's pedestal symbolic figures representing Law, Light (Science and Art), Peace and Work (Lex, Lux, Pax and Labor). The figure symbolizing law was the maiden of Finland wearing a bearskin. The same maiden can be seen in the pedestal of Runeberg's memorial to Finland's national poet J. L. Runeberg, located in the Esplanadi park.
The memorial was unveiled on April 29, 1894. Alexander II is depicted wearing a guards uniform, speaking at the Porvoo Diet in 1863. The uniform was Runeberg's idea; in Takanen's entry the monarch was dressed in civilian clothes without the symbols of power.
The memorial is typical of Runeberg's art in its cool and idealistic Realism. As such, it is a good example of the main trend in 19th century Finnish sculpture.
The memorial's sculptures are cast in bronze and the pedestal is red granite. Alexander's figure is 3.23 metres tall and the surrounding figures are 2.3 metres high. The total height of the memorial is 10.67 metres.
The statue talks to you: http://www.vihreatsylit.fi/en/?p=6767
The work of art belongs to the collection of HAM Helsinki Art Museum.
Aleksanteri II / Alexander II – Service Map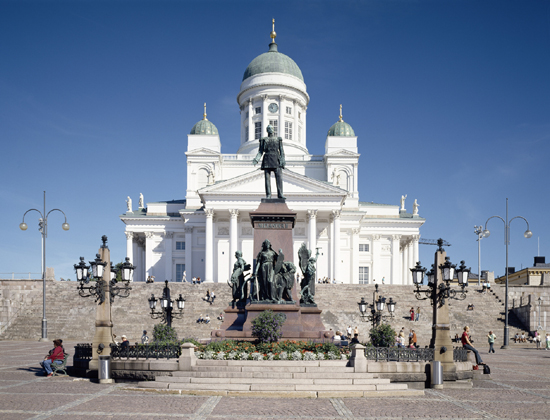 Walter Runeberg and Johannes Takanen: Alexander II, 1894. You may not use this photo for commercial purposes. © Photo: Helsinki Art Museum / Yehia Eweis