Pilgrim of Everyday Life (Removed)
The work has been removed from this location.
At the southern tip of Kaivopuisto just next to the sand path is a birch trunk about 2 metres high. From afar it looks likes a normal tree trunk. When one approaches, a contented-looking woman's face is visible which almost peeks out from the trunk. The eyes of the woman are closed, her cheeks are chubby and her lips are pertruding. It looks as if the artist would have geniously carved herself from inside the trunk and is now cheerful company for passers-by and the happenings in the park.
The artist Sanna Karlsson-Sutisna depicts multicultutural influences and her philosophy on life through her work, and strives to transmit respect of life and warmth to the hearts of the Finns. The sculptures are generally realistic and aestheitical in nature, yet also reveal the condition of the soul. They combine eternity with the everyday.
Sanna Karlsson-Sutisna is both a visual artist and dancer, who has developed her own dance-paint technique, in which dance and image techniques are combined to make both a human and spatial art work. Later she also added ritual elements to her performaces. Karlsson-Sutisna studied dance both in Cuba and later in Bali, Indonesia. The sculptures from wood are made from the year 1991 using Balinese wood carving techniques.
Pilgrim of Everyday Life (Removed) – Service Map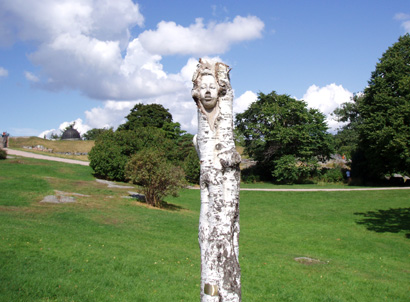 Sanna Karlsson-Sutisna: Pilgrim of Everyday Life (Removed), 2004. You may not use this photo for commercial purposes. © Photo: Helsinki Art Museum