Arvid Mörne (1876-1946) was a Finnish-Swedish poet and literature scholar. Mörne's poetry was mainly inspired by the archipelago of the Gulf of Finland, the sea and the coastal regions inhabited by Finland's Swedish-speaking population, especially in the province of Uusimaa. His works also voice his political views, the call for a social sense of justice.
Arvid Mörne's memorial consists of a bronze plate placed in front of a rocky wall and a realistic figure of the poet standing.
The work, 2.2 metres high, was commissioned from Viktor Jansson (1886-1958) and completed in 1951. It was unveiled on May 6, 1952 to commemorate Arvid Mörne's 75th anniversary. The work of art belongs to the collection of HAM Helsinki Art Museum.
Memorial to Arvid Mörne – Service Map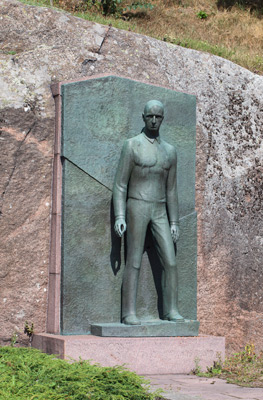 Viktor Jansson: Memorial to Arvid Mörne, 1951. You may not use this photo for commercial purposes. © Photo: Helsinki Art Museum / Hanna Kukorelli