The Insurance Company Kaleva building, designed by Theodor Höijer, was completed in the year 1889. The design is based on early Renaissance of the north of Italy but the finished building merely refers to the period and the upper levels approach Baroque. The bay in the corner on the first floor, named Atlantes, was made by Robert Stigell. The Greek word 'atlas' refers to the mythical being supporting the heavens as well as the male figures of Hellenic architecture which were commonly used instead of columns and pillars also in Baroque architecture. Stigell's atlantes are dressed in animal skins and conform to classicist ideals. Robert Stigell's work represented the naturalist realism of the Renaissance.
Originally he studied in Paris to become a stone cutter and later continued his studies in the drawing school of the Fine Arts Association of Finland, at the San Luca academy in Italy and the Ecole des Beaux-Arts in Paris. Works by Stigell located in Helsinki include the pieces in the facade of the department store Aleksi 13, titled Hunting and Spinning, and the statues of Ilmarinen and Väinämöinen in the facade of the Old Student Union building.
Atlantes don't belong to the collections of the Helsinki Art Museum.
Atlantit / Atlantes – Service Map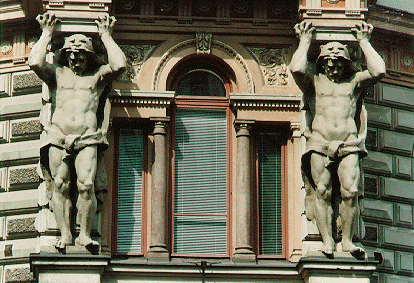 Robert Stigell: Atlantes, 1889. You may not use this photo for commercial purposes. © Photo: Helsinki Art Museum