Jaakola belongs to those artists, who became well-known in the 60s as an advocate of the new realist avant-garde. Jaakola's avant-garde works include, among other things, works built with machine parts. He also is known to have made a series of pioneering abstract works in Finland.
The comical family depicted on the bench beckon passers-by to rest a moment in their arms. The sculpture is granite.
"Open Arms" was put on show for the Helsinki Festival and in 1977 was acquired for the Helsinki City Art Museum collection.
Open Arms (stone bench) – Service Map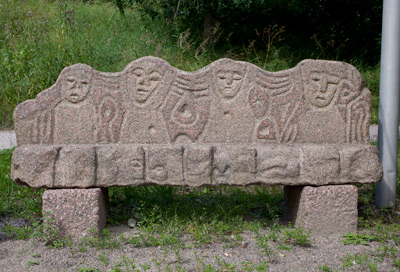 Alpo Jaakola: Open Arms (stone bench), 1972. You may not use this photo for commercial purposes. © Photo: Helsinki Art Museum / Hanna Kukorelli