Big Andy -toteemi / Big Andy totem pole (Removed)
The Helsinki City Public Works Department has commissioned several playful pieces of sculpture, including penguins, cows, dogs, lions (a symbol of Finland) and Disney characters, placed in playgrounds around the city. The work has been carried out by unemployed 'sculptors' under foreman Jukka Toivonen. 'Big Andy' was made by Markus Juslin, using a decommissioned utility pole from the energy board. The League of Finnish-American Societies provided its expertise concerning the correct manner of carving American Indian totems.
The art piece is damaged and has been removed. It doesn't belong to the collections of the Helsinki Art Museum.
Big Andy -toteemi / Big Andy totem pole (Removed) – Service Map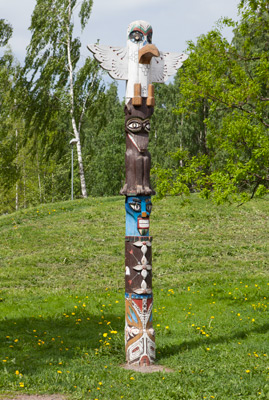 Markus Jusslin: Big Andy totem pole, 1990. You may not use this photo for commercial purposes. © Photo: Helsinki Art Museum / Hanna Kukorelli