Ehrensvärdin hauta / Ehrensvärd's grave
The memorial to Augustin Ehrensvärd (1710-1772), the founder of the Suomenlinna island fortress, is located in the large courtyard on Suomenlinna's Susisaari island. The memorial is based on a sketch made by the Swedish king Gustavus III, which was finalized by C.A. Ehrensvärd. It was commissioned from J.T. Sergel, and finally completed in probably 1805, only a few years before Sweden ceded Finland to Russia. During 1772-1782 Ehrensvärd lay in a temporary vault in the city cemetery until he could be moved to the grave in Suomenlinna.
The work doesn't belong to the collections of the Helsinki Art Museum.
Ehrensvärdin hauta / Ehrensvärd's grave – Service Map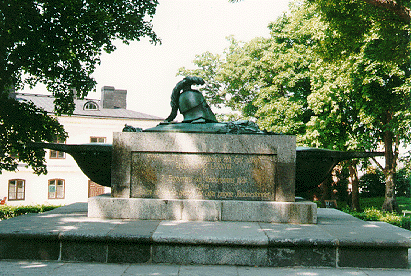 J. T. Sergel: Ehrensvärd's grave, 1805. You may not use this photo for commercial purposes. © Photo: Helsinki Art Museum