Eino Leino (1878-1926) is a well-loved classic author of Finnish lyrics. In 1948, the Eino Leinon society, the Finnish Cultural Foundation and the publishing company Otava organized a competition for a memorial to Eino Leino. The results first came in 1951 when the best participants of the first round were invited to the second round. The memorial was finally commissioned from Lauri Leppänen (1895-1977), a personal friend of Eino Leino.
Leppänen is known for his portraits and memorials. This sculpture is dynamic and massive, a typical example of European memorials to poets in its emphasis on exaltation and inspiration. Its expressiveness and strong character are emblematic of Leppänen's work.
The memorial is made of bronze and 4.2 metres high. It was unveiled on July 6, 1953, on the 75th anniversary of Eino Leino. Its location was debated widely prior to the unveiling. Lauri Leppänen had designed it for placement in the corner of "Eino Leinon katu" and "Topeliuksen katu" streets. He had therefore hoped that it would not be placed within the Esplanadi park - but rather in a place where it would have a neutral, architectural background.
The sculpture includes a passage from Leino's poem 'Väinämöisen laulu' (The song of Väinämöinen): Yksi on laulu ylitse muiden ihmisen aattehen hengen ankara laulu (One is the voice above all others/the stern voice of man's beliefs)
The work of art belongs to the collection of HAM Helsinki Art Museum.
The statue talks to you: https://patsaspuhuu.fi/leino/?lang=en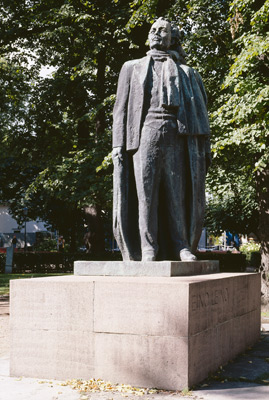 Lauri Leppänen: Eino Leino, 1953. You may not use this photo for commercial purposes. © Photo: Helsinki Art Museum / Yehia Eweis