Elias Lönnrot (1802-84) was a Doctor of Medicine, a linguist, a scholar of the Finnish language and a collector of Finnish folk poetry. He was the professor of Finnish language and literature at the University of Helsinki in 1853-62 and also played a key role in developing Finnish and improving its status in the 19th century. Lönnrot published extensively; his works extend from articles on medicine to `Kanteletar' (1841), a collection of Finnish folklore, and `Kalevala' (1835, 1849), the Finnish national epic, whose poems he also collected and edited. In addition, he edited a Finnish-Swedish dictionary (1880). Already during his lifetime Lönnrot won national acclaim. He also received numerous awards.
In 1899 the Finnish Literature Society organized a competition for a memorial for Lönnrot. The memorial was commissioned from Emil Wikström (1864-1942), the winner of the competition. The final proposal (1901), however, differed considerably from the original draft. It was clearly influenced by Eemil Halonen's competition entry which had finished second. Wikström's sculpture was cast in bronze in Brussels and unveiled on October 18, 1902. The work combines realistic sculpture with poetical and fantastic themes. It depicts Lönnrot on one of his folklore-collecting journeys, writing down the mythical words and poems he has just been sung. Beside the clearly realistically depicted Lönnrot are two personifications of poetic spirit. On Lönnrot's left is Väinämönen, the symbol of `Kalevala's' epic and magic verses, rising from the head of Vipunen, represented in bas-relief. On the right is Impi, symbolising the lyric poems and songs of `Kalevala' and `Kanteletar'.
Wikström intended to add Tapio, the forest god, as a protector of cattle but due to high costs the idea had to be abandoned. After the memorial was unveiled, Wikström was criticized for depicting both Lönnrot and the folklore figures with equal realism. The front of the pedestal contains Lönnrot's name and the text: "Sain sanat salasta ilmi, Kalevala" (The words I laid open, Kalevala).
The work of art belongs to the collection of HAM Helsinki Art Museum.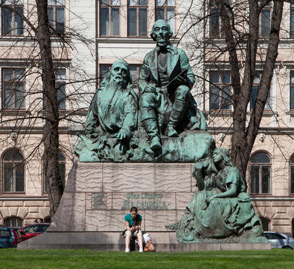 Emil Wikström: Elias Lönnrot, 1902. You may not use this photo for commercial purposes. © Photo: Helsinki Art Museum / Hanna Kukorelli