Epigrams for Helsinki citizens
Denise Ziegler's piece consists of eight cast-iron manhole covers in different locations in the city centre. Each round cover has a short epigrammatic poem or message for passers-by.
The short poems, or messages, comment on the situation and location of the reader. The aim is to reinforce the status of pedestrians as important individual elements of the urban environment. These 'memorial plaques' can be found on pavements in streets around the City centre such as Pohjoisesplanadi, Mannerheimintie, Simonkatu, Eteläranta,Yliopistokatu and in the Kampintori square.
EPIGRAMS;
1. THIS ROAD TAKES YOU NORTH PAST MONUMENTS AND BUILDINGS.
Mannerheim square, in front of Kiasma Museum of Contemporary art.
2. I WAS PLACED AT THE EDGE OF THE PARK. PASSER-BY, WALK IN THE MIDDLE OF THE ROAD.
Pohjoiseplanadi / Kluuvikatu, edge of the park.
3. I AM A DISTRICT HEAT COVER, A GUARDIAN OF SUBTERRANEAN TUNNELS.
Yliopistokatu, in front of Porthania.
4. IN THE BACK ROOM OF THE CITY YOU ENJOY THE VIEW OF THE SEA.
Eteläranta, behind the Old Market Hall.
5. ON THIS SPOT A WOMAN WAS WAITING, JUST AS A RED VAN DROVE BY.
Pohjoisesplanadi / Mikonkatu
6. THE LITTLE RED MAN STANDS ON THE OTHER SIDE OF THE STREET, I AM STANDING HERE.
Mannerheimintie / Kalevankatu
7. THIS STREET LEADS DOWN TO THE RAILWAY STATION, YOU ARE HEADING UPHILL.
Simonkatu, square in between Lasipalatsi and Forum shopping centre (in the picture).
8. YOU ARE STANDING IN A SQUARE AT KAMPPI, A TRIANGLE SURROUNDED BY THE HUM OF THE CITY.
At Kamppi, next to the Ernst Billgren's Meeting points.
The work of art belongs to the collection of HAM Helsinki Art Museum.
Epigrams for Helsinki citizens – Service Map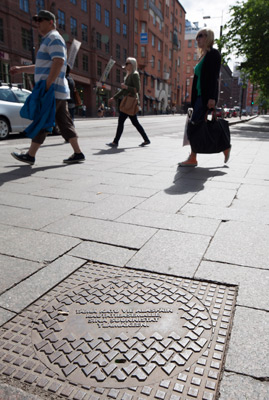 Denise Ziegler: Epigrams for Helsinki citizens, 1999. You may not use this photo for commercial purposes. © Photo: Helsinki Art Museum / Hanna Kukorelli