"Fifty Cities" is a round bench, placed in an attractive park by the seashore in Helsinki's Herttoniemi district. The airport codes of fifty major cities have been inscribed in the bench. Ben Langlands and Nikki Bell are internationally well-known contemporary artists from Britain. Their works have a characteristic coolness and panache.
The Helsinki City Art Museum acquired the piece from the "Sculpture at Goodwood" contemporary art park in West Sussex in 1997. The bench is made of the pale Portland stone and has a diameter of six metres.
The work belongs to the collections of the Helsinki Art Museum.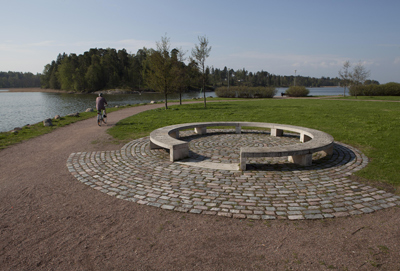 Nikki Bell and Ben Langlands: Fifty Cities, 1999. You may not use this photo for commercial purposes. © Photo: Helsinki Art Museum / Maija Toivanen