'Gecko' is a new environmental work situated in Helsinki Kamppi bus terminal. Ceramic artists, Pekka Paikkari, Kristina Riska and Kati Tuominen created the monumental ceramic work which was completed early in 2005.
The bus terminal is the hub of the City peak hours and also acts as a meeting place for travellers and shoppers. The work helps transform the whole area, and in the words of the artists: "We wanted to create a momentary more humane and peaceful space".
Ceramic is doubled-up in 'Gecko' both as an architectural and cityplan element which, through it's form, has created a new expression for this material. The yellow ceramic surface and slightly irregular positioning of the tiles give an impression of a lizard's skin. The elegant yellow work lures you and invites you to touch and try out it's surface. The work is a dominant element in the Kamppi terminal. It cheers up the surrounding area and offers colour to it's environment. And although the 'Gecko' itself is motionless, life is created for the gecko through the stream of people which continuously move inside it like a current.The work acts as a concrete skin around the escalators at it's wide opening which link the central hall and bus terminal to the metro station metres below.
The work is ca. 4 metres in diameter and it's ceramic surface measures ca. 275m2. The work was realised in co-operation with two architects, Aki Davidsson and Timo Kiukola. The work doesn't belong to the collections of the Helsinki Art Museum.
In Gecko's vicinity is another work, 'Water Tap', a refreshing water spring work made by the artfounder Jarmo Saarekas.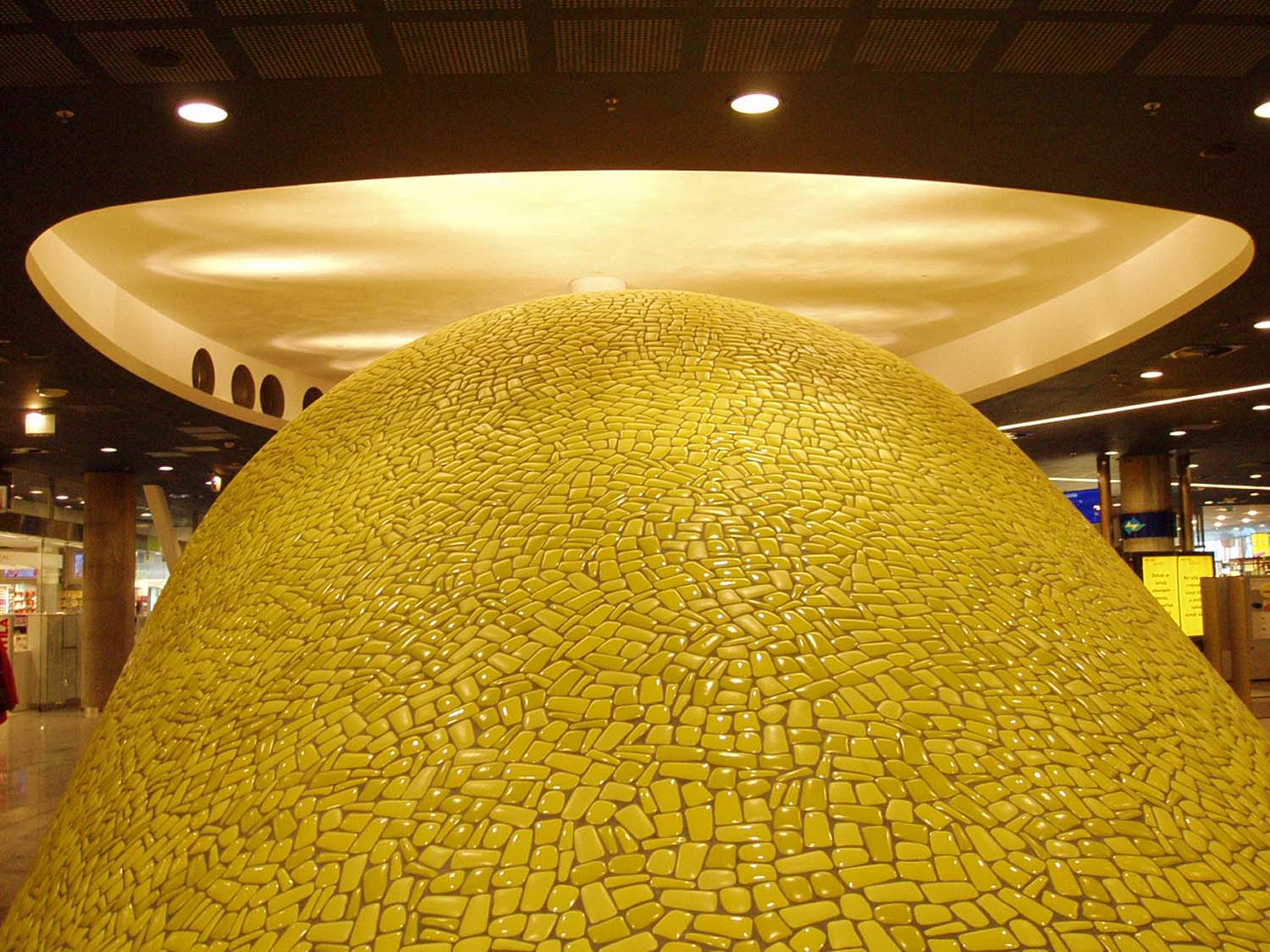 Paikkari, Riska and Tuominen-Niittylä: Gecko, 2005. You may not use this photo for commercial purposes. © Photo: Helsinki Art Museum