The heavy weight boxer Gunnar Bärlund (1911-1982) - better known as GeeBee - was immensely popular in the 1930s. When GeeBee visited Helsinki in 1938, tens of thousands of people filled the streets in celebration of their hero. His merits include the European Championship, won in 1934. On the professional circuit he became the second challenger to the World Champion.
Gunnar Bärlund's statue follows the ideals of realistic portraiture; the figure, larger than life-size, is about to strike while using his other arm to protect the head and body. The bronze statue was unveiled in 1991. Niilo Rikula (b. 1959) was selected as the artist in a competition organized by the Hermanni-Vallila seura, a neighbourhood association.
The work of art belongs to the collection of HAM Helsinki Art Museum.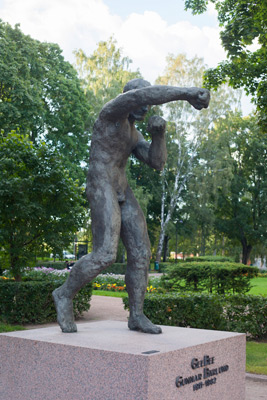 Niilo Rikula: Gunnar Bärlund, 1991. You may not use this photo for commercial purposes. © Photo: Helsinki Art Museum / Maija Toivanen