Hei vaan (Vapaakyyti)/ Hey
The fountain was unveiled in 1942. It's original name was 'Hei vaan' (Hi). Previous plans for the sculpture were also known under the names of 'Ilmaiskyyti', 'Vapaakyyti' and 'Snålskjuts' (all refering to a free ride).
In 1939, the City organized a competition for two fountains to be placed by the small water pool in the Esplanadi park. Following the competition, a decision was made to commission the works from Viktor Jansson (1886-1958) on the basis of his drafts of 'Leikki' (Play) and 'Hei vaan'. They were completed and cast in bronze already in 1940 but were unveiled until May 15, 1942.
The work of art belongs to the collection of HAM Helsinki Art Museum.
Hei vaan (Vapaakyyti)/ Hey – Service Map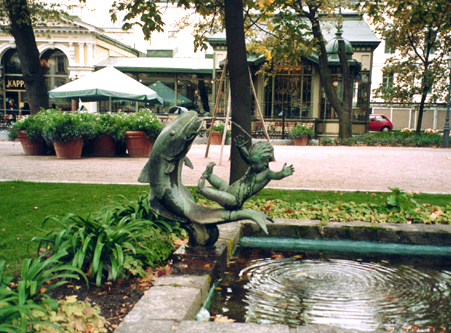 Viktor Jansson: Hey, 1940. You may not use this photo for commercial purposes. © Photo: Helsinki Art Museum