Monument commemorating the City of Helsinki's 400th anniversary
The City of Helsinki was founded in 1550 by the order of the Swedish king Gustaf Wasa. The order was given on June 12 and it stated that the inhabitants of Rauma, Ulvila, Tammisaari and Porvoo were to be transferred to the newly founded town.
The memorial was designed by the sculptor Yrjö Rosola and erected by the City. It is a stone slab of dark grey granite with a relief on the left depicting Gustaf Wasa's profile in a style reminiscent of the Renaissance. The stone contains the text "Tälle paikalle perusti Kustaa Vaasa Helsingin kaupungin vuonna 1550. På denna plats grundade Gustav Vasa Helsingfors stad år 1550" (In this location was the City of Helsinki founded by Gustaf Wasa in 1550.)
In addition, the memorial comprises a separate granite memorial plaque set on a slate stone pedestal. The plaque shows Helsinki's town plan for the years 1550- 1640, that is, when it was first located at the mouth of the Vantaanjoki river. The memorial was unveiled on June 11, 1950.
Monument commemorating the City of Helsinki's 400th anniversary – Service Map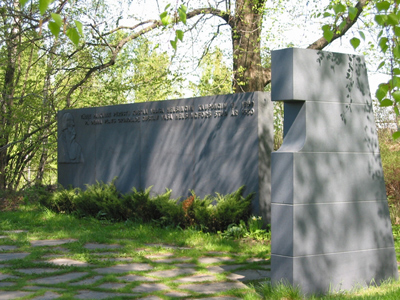 Yrjö Rosola: Monument commemorating the City of Helsinki's 400th anniversary, 1950. You may not use this photo for commercial purposes. © Photo: Helsinki Art Museum