Ilmatar ja sotka / Ilmatar and the Scaup
In 1939 the Leo and Regina Wainstein foundation organized a competition for a sculpture with a Kalevala theme to be erected in Helsinki. The competition was won by Aarre Aaltonen's (1889-1980) entry "Ilmatar and the Scaup", and it was decided that the bronze piece would be placed in what is today known as the Sibelius park. The piece was unveiled in 1946.
The sculpture's subject is Kalevala's creation myth. Ilmatar, the spirit or goddess of the air is impregnated by a storm and expects Väinämöinen (the symbol of Kalevala's epic). She drifts in the sea for 700 years until a scaup settles on her knee, mistaking it for an islet, and lays seven eggs which she then begins to brood. The heat from the brooding makes Ilmatar move her leg and the eggs break, becoming the earth, sky, sun, moon, etc. Aaltonen's work is an interesting amalgamation of international Art-Deco-inspired forms and a national epic subject. The figure in the sculpture is evocative of the interpretations of the Classical myth of Leda and the swan portrayed in painting and sculpture.
The sculpture's pedestal is of red Vehmaa granite. It contains an inscribed quote from the beginning of Kalevala, recounting the myth of Ilmatar and the scaup.
The work of art belongs to the collection of HAM Helsinki Art Museum.
Ilmatar ja sotka / Ilmatar and the Scaup – Service Map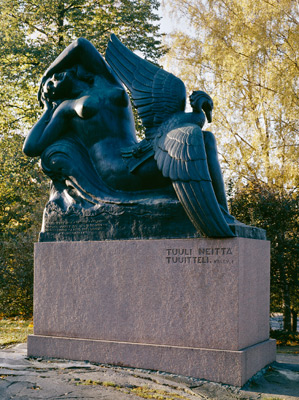 Aarre Aaltonen: Ilmatar and the Scaup, 1946. You may not use this photo for commercial purposes. © Photo: Helsinki Art Museum / Yehia Eweis