Jäähyväiset / Goodbye / Au Revoir
Industrialist Uno Staudinger built Villa Ensi as a maternity hospital for the midwives who helped to bring his daughter into the world. It was designed by Selim A. Lindqvist, one of the foremost architects of the time who also designed Villa Johanna in Eira as Staudinger's residence. Villa Ensi, named after Staudinger's only daughter, was completed in 1912. Staudinger purchased the Swedish sculptor's works Goodbye (1910) and The Joy of Maternity and placed them in front of the building. The works symbolize the idyllic aspects of founding a family.
In addition, Emil Wikström's piece Man With Hoe is placed in the garden, while Victor Jansson's Fighter stands guard in a niche of the wall surrounding the Villa. They symbolize the traditional male roles in the family. In the context of the intended use of Villa Ensi, the works comply with the idea of buildings as comprehensive works of art promoted by National Romantic architecture, as do the building's ideal location within a park and the sea view opening in front of it. In the early 1930s the building was converted into a 9-room residence for the family. It was sold in 1987 and became a sheltered home for the elderly, operated by the Villa Ensi foundation. With the exception of Wikström's Man With Hoe the sculptures were sold to the new owner of the house. Wikström's piece followed its owner to his new home in Kaivopuisto.
The work doesn't belong to the collections of the Helsinki Art Museum.
Jäähyväiset / Goodbye / Au Revoir – Service Map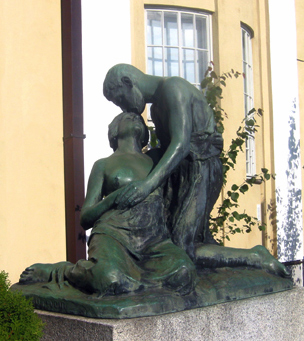 Harald Sörensen-Ringi: Au Revoir (Goodbye), 1912. You may not use this photo for commercial purposes. © Photo: Helsinki Art Museum