Kaarlo Juho Ståhlberg (1865-1952) was the first president of the Finnish republic (1919-25). His memorial was commissioned from Wäinö Aaltonen (1894-1966) following an open competition arranged in 1955 which did not yield a result, and another competition in 1956, to which Olli Vaittinen, Viljo Savikurki, Armas Tirronen and Wäinö Aaltonen were invited.
Ståhlberg's memorial was unveiled on September 22, 1959, seven years after his death. It is a continuation of the heroic and Classical tradition typical of Aaltonen's memorials, combining physical resemblance with unaffected realistic form. K.J. Ståhlberg is depicted with a statute book in his right hand, a reminder of his career as a lawyer and of his political activity and role as the father of the Finnish Constitution.
The sculpture is cast in bronze and it's pedestal is red granite. The work of art belongs to the collection of HAM Helsinki Art Museum.
The statue talks to you: http://suomenpresidentit.fi/stahlberg/?lang=en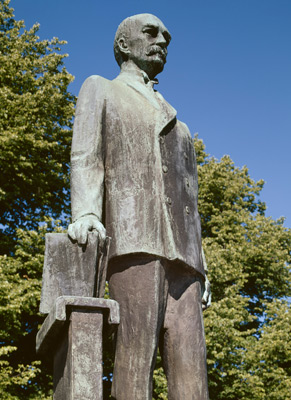 Wäinö Aaltonen: K.J. Ståhlberg, 1959. You may not use this photo for commercial purposes. © Photo: Helsinki Art Museum / Yehia Eweis