Käärme paratiisissa / Serpent in Pradise
Art is present in Ruoholahti in many ways, on buildings and in parks, yards and squares. There are permanent works as well as temporary or experimental pieces. The new residential area in the west of Helsinki was constructed almost entirely in the 1990s. Combining suburban features with a proximity to the city centre and a location near the sea, extra effort was made to ensure that the new area is pleasant to live in.
The sculptor Pertti Kukkonen has designed many works for the buildings in Ruoholahti. Employing concrete in much of his work, Kukkonen's art is found on facades, but also on the roof of a parking facility.
Serpent in Paradise twists around the plinth of a residential building and continues over to the neighbouring house, thus providing a humorous link between the two residential buildings designed by the architect Raimo Teränne. The work is made of polished stone and terrazzo tiles.
The work doesn't belong to the collections of the Helsinki Art Museum.
Käärme paratiisissa / Serpent in Pradise – Service Map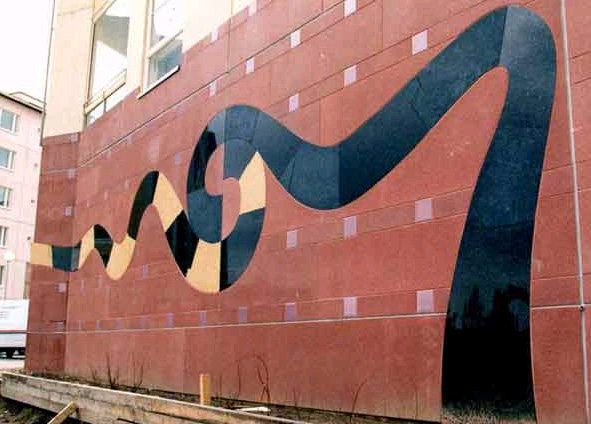 Pertti Kukkonen: Serpent in Pradise, 1997. You may not use this photo for commercial purposes. © Photo: Helsinki Art Museum