Kagaalin muistokivi / Kagal memorial stone
The memorial was erected to commemorate a Finnish resistance group founded during the first period of Russian oppression (1899-1905). The word 'kagal' comes from the Hebrew word 'kahal' meaning congregation or group. Russian nationalists used it as a derogatory term for secret Jewish societies and later also for Finns defending the constitutional rights of the Grand Duchy of Finland. The words 'Third of August in the year 1903' cut in the granite in Finnish and Swedish refer to a meeting which took place on that day at the Turholma mansion nearby (now Aino Ackté's villa). The russification which took place during the period of oppression divided Finnish politics into those in favour of appeasement and those resisting russification, also known as the Constitutionalists.
On July 12, 1901, after having abolished Finland's national army, the Czar declared that all Finnish men would be liable for military service in the Empire's armed forces. On August 1, 1901, the conciliatory Finnish parliament resolved to include the illegal act in Finnish legislation. Those favouring passive resistance reacted by founding the Kagal as their central organization and organizing conscription strikes. The original plan was to hold a founding meeting at Hotel Kämp on the third of August but for security reasons the meeting was held at the Turholma mansion owned by general J. af Lindfors in Laajasalo, an hour's steamship journey from Helsinki. A number of notable Finns participated, possibly including Adolf von Bonsdorff, E. Castrén, Eero Erkko, Ernst Erlander, Th. Homén, P.E. Svinhufvud and William Zilliacus. A citizens' petition was drawn up by Leo Mechelin, which was signed by some 500,000 people. The address was delivered to the Czar in September; his reply was uncompromising. Governor general Nikolai Bobrikov responded to the address by threatening to expel striking students from their institutions and preventing strikers from taking office. Finally, however, the strikes organized by the Kagal forced the Czar to cancel his decision.
In May 1902 a women's Kagal was founded. Its activities included smuggling and distribution of illegal publications, delivering secret messages and collecting funds. Although it became more difficult to operate after the Czar's dictatorship was decreed, the Kagal managed to carry on. In the 1904 Diet it was still able to bring a victory to those in favour of passive resistance. After the General Strike the Kagal disbanded but it never dissolved formally.
Kagaalin muistokivi / Kagal memorial stone – Service Map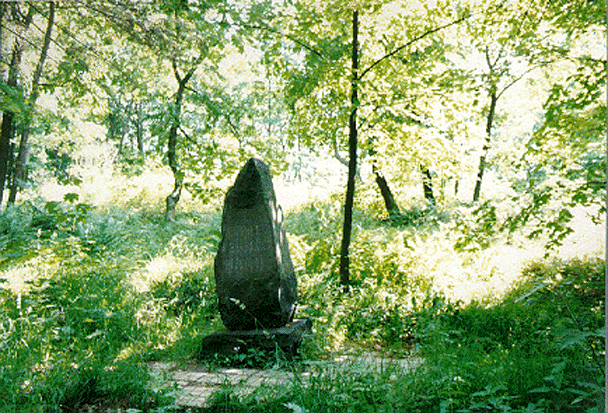 You may not use this photo for commercial purposes. © Photo: Helsinki Art Museum