The white marble "Wader" was donated to the city of Helsinki by the art dealer Göstä Stenman in 1924. It was placed in a pool in the Tähtitorninmäki park in 1925. The piece was made by Wäinö Aaltonen (1894-1966) in Rome two years earlier. However, the work suffered from vandalism and was removed for conservation work. In 1994 it was placed in the Rikhardinkatu library.
"Wader" shows only the upper part of the female; the lower part is assumed to be under water. From the beginning, it was associated with Akseli Gallen-Kallela's depictions of Kalevala's Aino. Aaltonen depicts the fleeing maiden's movement in the water similarly to Gallen-Kallela, with the upper body twisting to one side and the head turned as if the girl is trying to shield herself from someone's gaze.
Aaltonen made several female figures in the 1920s, giving them names such as "Wader", "Bathing", etc. His aim was to present an ideal Finnish woman but his proposals provoked heated debate. The works were criticized for what was considered excessive stockiness. Aaltonen's reply was that this was inevitable due to the demands of the stone he used; the figures were founded on a surface created by light and shadow where the shadows gradually become lighter and, correspondingly, the light darkens into shadow. Aaltonen's expression does not seek naturalism but is a living shape created by the artist.
The work of art belongs to the collection of HAM Helsinki Art Museum.
Kahlaaja / Wader – Service Map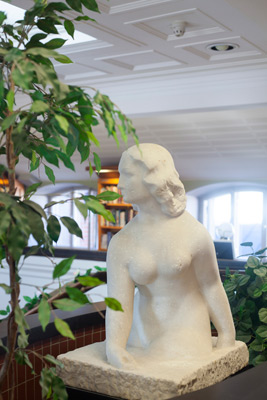 Wäinö Aaltonen: Kahlaaja / Wader, 1923. You may not use this photo for commercial purposes. © Photo: Helsinki Art Museum / Maija Toivanen