Kallioaurinko / The Rock Sun
The shape of the sun cut into the base rock is a reference to the early instruments used to measure time. Grooves divide shades into periods, allowing the viewer to follow the progress of time. The grooves also collect rainwater to the sculpture's base, creating a reflecting surface. Thus the work lives in a double reality: it creates its own reflecting mirror-world but as a sculpture cut into base rock, the symbol of permanence, it is subject to the laws and forces of nature.
The piece is cut in red granite. The work of art belongs to the collection of HAM Helsinki Art Museum.
Kallioaurinko / The Rock Sun – Service Map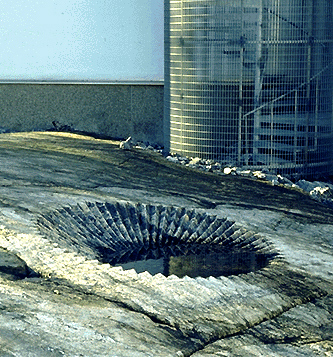 Matti Peltokangas: Kallioaurinko / The Rock Sun, 1994. You may not use this photo for commercial purposes. © Photo: Helsinki Art Museum