Kehruu ja Metsästys / Spinning and Hunting
The Lundqvist building was designed by Selim A. Lindqvist and completed in 1900. It was built with the latest technology available at the time and is one of the first actual commercial buildings in Helsinki. Thanks to its steel and concrete construction, its floorplan, designed by Elin Heikel, is extremely versatile. In the facade large glass surfaces combine with a richly decorated structure of granite and red brick. The building's ambience is given a final, finishing touch by steep towers, mosaics and the sculptures at the main entrance. The sculptures, titled Spinning and Hunting were designed by Robert Stigell. The bronze pieces depict two half-naked women, the other one holding a spear and rope for hunting while the other holds a lump of wool which her finger are spinning into yarn. They connect to the building's commercial purpose and to handicrafts and livelihood. They are also renditions of the goddess Artemis, a huntress and the protector of forests, and Athene, the goddess of handicraft and practical skills, the arts and wisdom.
Stigell's style followed Renaissance and the related realism. He studied in St. Petersburg to become a stone cutter and then enrolled in the drawing school of the Fine Arts Association of Finland. He also studied at the San Luca academy in Rome and at Ecole des Beaux-Arts in Paris. His oeuvre includes several facade pieces, such as Ilmarinen and Väinämöinen of the Old Student Union building and the Atlantes of the head offices of the Insurance Company Kaleva.
The sculptures 'Spinning' and 'Hunting' don't belong to the collections of the Helsinki Art Museum.
Kehruu ja Metsästys / Spinning and Hunting – Service Map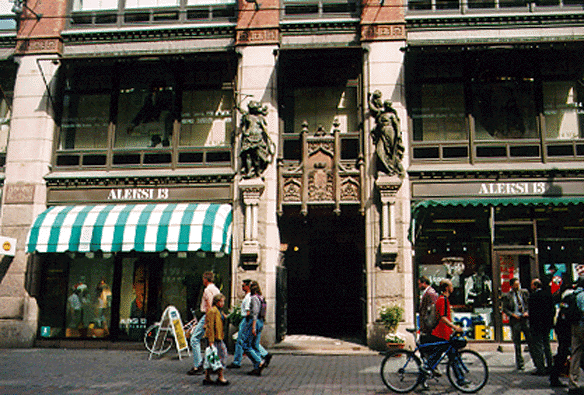 Robert Stigell: Spinning and Hunting, 1900. You may not use this photo for commercial purposes. © Photo: Helsinki Art Museum