Kivet, suihkukaivo/ Stones, a fountain
The composition of the two stone slabs creates a peaceful atmosphere. The placing of one of the stones in a pool incorporates the different natural elements to the whole. The curving, vertical form and the soft, organic treatment of the stone by the pool, together with the constantly changing gush of water lend the work a meditative sensibility. The mass of the stone slabs and the lively lightness of the gushing water create an opposition which enlivens the deep and harmonious balance of the work, which is reminiscent of Japanese rock gardens where composition and refined form are an ideal surrounding for meditation.
The work's location at a shopping centre is intended to allow the viewer an escape from routine and the rat race of the consumer society. Harry Kivijärvi's (1931-2010) work was completed in 1965 and its material is granite. The work of art belongs to the collection of HAM Helsinki Art Museum.
Kivet, suihkukaivo/ Stones, a fountain – Service Map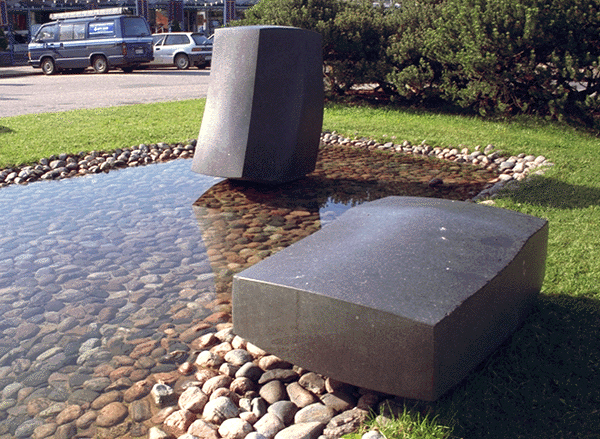 Harry Kivijärvi: Kivet, suihkukaivo / Stones, a fountain, 1965. You may not use this photo for commercial purposes. © Photo: Helsinki Art Museum