Kluuvinlahden fossiilit / Kluuvinlahti Fossils
The stone pavement on Aleksanterinkatu street has an inlaid 8.5 cm wide copper band with Latin names of shoreline animals and plants engraved on it. The band runs along the early 19th century shoreline of Kluuvilahti bay.
During the renovation of Aleksanterinkatu, the Street Division of Helsinki City Public Works Department and the Helsinki City Art Museum organised an idea competition for an environmental work for the street. The competition winner was Tuula Närhinen's (b. 1967) entry Kluuvinlahti Fossils.During the basic renovation of the street, a heating system was installed that keeps the sidewalk free of snow and dry also in the winter.
The Kluuvi district in the centre of Helsinki was originally a bay of sea. The maritime past is now preserved in the work of art speaking about the history of the area for pedestrians. The work is complemented by cast-iron manhole covers with pictures of the water and wetland animals and plants - some of them extinct -- that lived along the shores of the bay.
KLUUVINLAHTI FOSSILS - list of Latin names in the work:
WESTERN END OF ALEKSANTERINKATU - NORTH SIDE(facing towards the Senate Square):
CLADOPHORA GLOMERATA
CERATOPHYLLUM DEMERSUM
MYRIOPHYLLUM SPICATUM
ABRAMIS BRAMA
RUPPIA MARITIMA
CATABROSA AQUATICA
POTAMOGETON PECTINATUS
WESTERN END OF ALEKSANTERINKATU - SOUTH SIDE(facing towards the Senate Square):
PHALARIS ARUNDINACEA
GAMMARUS ZADDACHI
ASELLUS AQUATICUS
MACOMA BALTHICA
STIZOSTEDION LUCIOPERCA
ZANNICHELLIA PALUSTRIS
ELECTRA CRUSTULENTA
ALEKSANTERINKATU EASTERN END - SOUTH SIDE(facing towards the Three Smiths Square):
CAREX NIGRA
BITHYNIA TENTACULATA
CORDYLOPHORA CASPIA
PERCA FLUVIATILIS
POTAMOGETON PERFOLIATUS
ESOX LUCIUS
ALEKSANTERINKATU EAST END - NORTH SIDE(facing towards the Three Smiths Square):
LEMNA MINOR
BOLBOSCHOENUS MARITIMUS
ENTEROMORPHA INTESTINALIS
PHRAGMITES AUSTRALIS
MYRIOPHYLLUM SIBIRICUM
The work belongs to the collections of the Helsinki Art Museum.
Kluuvinlahden fossiilit / Kluuvinlahti Fossils – Service Map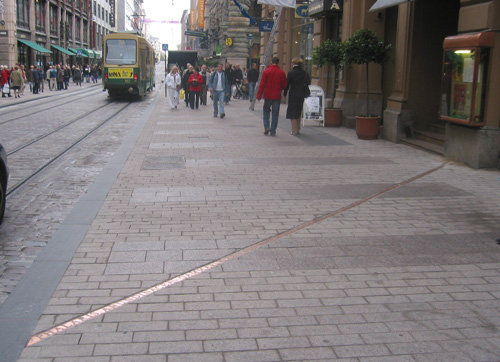 Tuula Närhinen: Kluuvinlahden fossiilit / Kluuvinlahti Fossils, 2003. You may not use this photo for commercial purposes. © Photo: Helsinki Art Museum