Kohtaaminen/ The Encounter
'The Encounter' contains a reference to Minimalism. Minimalism, which peaked in the 1960s and 1970s, swore by pure form and whiteness, a colour which nearly became holy. Based on an ordinary composition exercise, the basic shapes of 'The Encounter' strike a familiar tune with everyone who has studied drawing; a cone, a ball and a rectangle. However, Pekka Jylhä's (s. 1955) colour scheme, dark grey, red ochre and light green, are heretical to the orthodoxy of minimalist art. In installations, architecture and the surroundings must be paid much more attention than in so called free sculpture.
The relationship between an installation and the architectural space must be defined precisely to allow the work to define or create its own space. The irony in Jylhä's work reveals its ambivalence towards architecture. The material (concrete) and the play with basic architectural shapes can be understood as a comment on the independence of installation; works of art which define space are not mere useless architecture.
The work belongs to the collections of the Helsinki Art Museum.
Kohtaaminen/ The Encounter – Service Map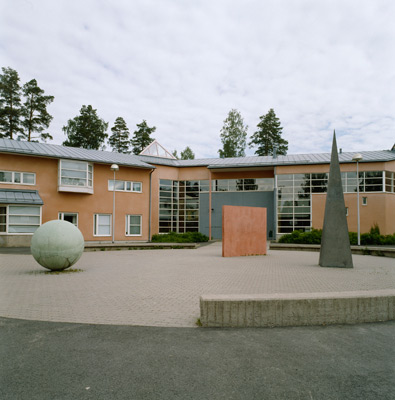 Pekka Jylhä: Kohtaaminen/ The Encounter, 1992. You may not use this photo for commercial purposes. © Photo: Helsinki Art Museum / Hanna Kukorelli