Kolme aitaa / Three Fences
As its title implies, Denise Ziegler's Three Fences consists of three fences, all installed in a park in Konala. The fences are all modelled on fences found in the centre of Helsinki. One is based on a 1960s fence in the grounds of Meilahti Hospital, another imitates the functionalist style of a fence on Topeliuksenkatu in Töölö, and the third, an old type of fence with stone posts and chains, is based on a fence found in front of Kallio library.
The artist had studied fences in Helsinki and noted that their function differs in different parts of the city. Decorative fences marking flowerbeds or the boundaries of plots are more common near the centre. By contrast, fences used as screens or to prevent trespassing are more common in the suburbs. The idea behind the piece was to transplant fences from the centre of Helsinki towards the periphery.The materials used in the work are stainless steel, wrought iron, chainlink mesh, concrete and stone. The artist has sited the three fences in selected places in the lawn area of Hilapelto park.
During the construction of the work, the Helsinki Art Museum contacted the local residents' association in Konala and organised an educational project on the theme of fences for students in the local Hilapelto primary school.Denise Ziegler's Three Fences was officially unveiled in Hilapelto park on Monday, 11 October 2010. In February 2011, the Finnish Foundation for Environmental Art awarded the work its 2010 Environmental Artwork of the Year honorary diploma.
The work belongs to the collections of the Helsinki Art Museum. Another work by Denise Zeigler, Concerto for Laakso, can be found in the vicinity of Töölö Football Stadium.
The work belongs to the collections of the Helsinki Art Museum.
Kolme aitaa / Three Fences – Service Map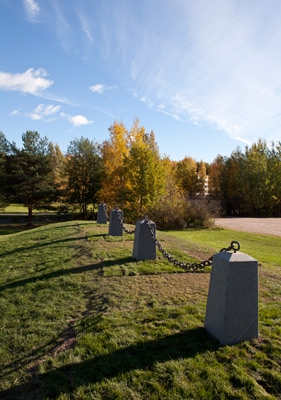 Denise Ziegler: Kolme aitaa / Three Fences, 2010. You may not use this photo for commercial purposes. © Photo: Helsinki Art Museum / Taru Tuulia Tittonen