A architectural competition was held in order to improve Tallinnan aukio (Tallinn square) and to complement the renovations of the area made from 2004-2005. Kimmo Schroderus' (b. 1970) sculpture called Kuru (kuru = canyon, ravine), which is placed east end of Tallinnan aukio, includes a pool and running water on the surface of the sculpture.
The sculpture is made of round 10 mm acid proof steel rod that has been bent into a bumpy shape and welded together on one side. Over 3km (3200m) of steel rod was used. It is 320 mm high, 460 mm wide, 270 mm deep and weighs 3000kg.
The water flowing down the sculpture glistens in the sun and daylight on the twisting steel planes bringing the sculpture to life creating wave-like rolls and emulating the energy and movement of water in a ravine. The inspiration of the work came from Norwegian waterfalls of narrow creeks and deep valleys.
The commissioners of the work, the City of Helsinki, had wished for more water elements, but restrictions had to be made due to the metro tunnel situated only metres below the work. The sculpture was put on display at the PURNU 2003 summer fare at Orivesi and Hämeenlinna Art Museum court yard 2004 before being inaugurated in Helsinki.
The work belongs to the collections of the Helsinki Art Museum.
Kuru / Steelsculpture – Service Map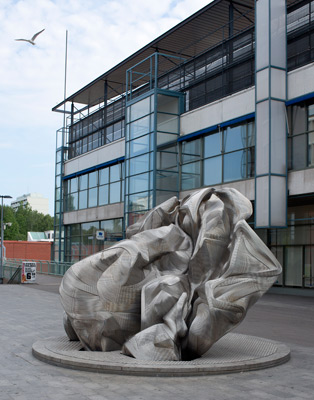 Kimmo Schroderus: Kuru, 2006. You may not use this photo for commercial purposes. © Photo: Helsinki Art Museum / Maija Toivanen