Kustaa II Adolfin... / Memorial to the Gustaf II Adolf Diet in 1616
The grey granite obelisk "Memorial to the Gustaf II Adolf Diet" was designed by Brunila and was erected in 1932 by the Historical societies. Birger Brunila made a notable career as Helsinki's urban planner during 1917-48.
The inscription on the obelisk reads: "Täällä vanhassa Helsingissä Kustaa II Adolf piti kokousta Suomen säätyjen kanssa turvattuaan uuden itärajamme" (Translation: "After having secured our new eastern frontier, Gustaf II Adolf met with the Finnish estates here in the old Helsinki"). The memorial and it's text reflect the Finns' fears and the state of the Finnish culture in the 1930s rather than people's veneration of a heroic king. In addition to Finnish, the text is also in Swedish and Latin.
Kustaa II Adolfin... / Memorial to the Gustaf II Adolf Diet in 1616 – Service Map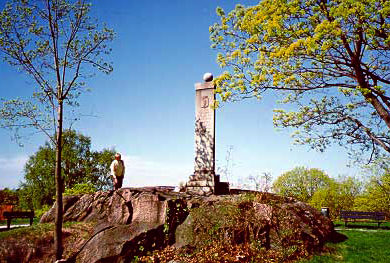 You may not use this photo for commercial purposes. © Photo: Helsinki Art Museum