Kyösti Kallio (1873-1940) was the fourth president of the Republic of Finland (1937-40). He was a member of the Diet and the parliament in 1904-37, the speaker of the parliament on several occasions and held positions in the Government as Minister and Prime Minister.
President Kallio felt that deteriorating health would compromise his ability to deal with the tense international situation at the time - and therfore he resigned in mid-term.
As he was about to board a train to return to his home in Nivala, he collapsed dramatically and died in the arms of his escorts before the honour guard at the Helsinki Railway Station on December 19, 1940. To commemorate this, a plaque was unveiled on the brick wall of the Railway Station in the year 2000 on the anniversary of Kallio's death. The plaque was designed by the architect Yrjö Sormunen.
The statue was made by his son, sculptor Kalervo Kallio (1909-1969), in a traditional, realistic style and was unveiled on November 10, 1962. The bronze statue is 3,6 metres and the red granite pedestal 1,7 metres high. The work belongs to the collections of the Helsinki Art Museum.
The statue talks to you: http://suomenpresidentit.fi/kallio/?lang=en
Kyösti Kallio Memorial – Service Map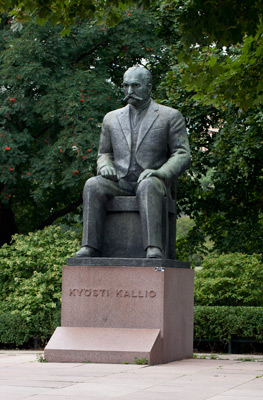 Kalervo Kallio: Kyösti Kallio memorial statue, 1962. You may not use this photo for commercial purposes. © Photo: Helsinki Art Museum / Yehia Eweis