Urho Kaleva Kekkonen (1900-86), UKK, was elected President of the Republic of Finland in 1956, and held the office continuously until his resignation in 1981. President Kekkonen died in 1986. The monument was unveiled on the centenary of President Kekkonen's birth on September 3, 2000 by the present Finnish President, Tarja Halonen. The work belongs to the collections of the Helsinki Art Museum.
A competition was organized in 1997 for a monument commemorating Kekkonen. The first prize was awarded to sculptor Pekka Jylhä's (b. 1955) entry, and he was commissioned to create the work. In Jylhä's words, his Spring is based: "on the emotions one goes through when standing on top of a high hill, on a sea shore or at a spring in the forest. One feels the presence of a higher being, of a force that makes you feel safe and whole."
The monument is located in the Hakasalmi Park next to Finlandia Hall. It consists of a drop-shaped spring, glistening water and four bronze hands. The President's name and the years of his birth and death (1900 and 1986) have been written on the rock in the monument's background. The spring is a stainless steel pool and it is illuminated from below. It has a surface area of over 60 m2 and its maximum depth is roughly 1 metre. To prevent the water from freezing in winter, it is circulated constantly and heated. There are four bronze hands set on top of 8-metre-high posts just behind the pool. Jylhä explains that Kekkonen was a man who used his hands to express himself and help him think matters through. He always wrote by hand, including his legendary letters "From My Mill".
The statue talks to you: http://suomenpresidentit.fi/kekkonen/?lang=en
Spring / UKK Monument – Service Map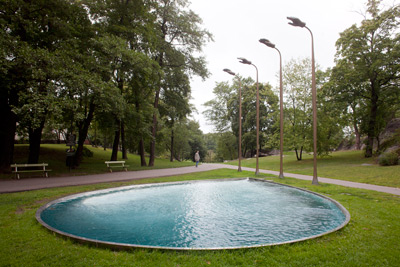 Pekka Jylhä: Lähde / Spring / UKK Monument, 2000. You may not use this photo for commercial purposes. © Photo: Helsinki Art Museum / Maija Toivanen