The statues of the two greatly admired Finnish long-distance runners are placed in the immediate vicinity of the Olympic Stadium. One of the statues is the one dedicated to Lasse Viren (1949-), who was the first ever sportsman to win Olympic gold in both the 10,000 metre and the 5,000 metre races in two consecutive Games.
The spirit of physical culture and nationalism, which this statue symbolizes, is not however exclusive to the 20th century. The significance of athletes and sport for national-awareness and identity are echoed from the city-states of ancient Greece - where athletes were celebrated as national heroes and memorials were dedicated to them.
Whilst Wäinö Aaltonen's statue of Paavo Nurmi strives to depict Nurmi's revolutionary hip movement (disguised in Classicist and idealist expression), Terho Sakki's (1930-1997) ideals are, however, different. The statue of Lasse Viren is characterised by expressive and unpolished forms. They have been interpreted as a sign of the wasting work threatened by uncertainty which always precedes victory. The statue not only depicts the runner - it also narrates his development into a world-class athlete.
The sculpture is cast in bronze. The work belongs to the collections of the Helsinki Art Museum.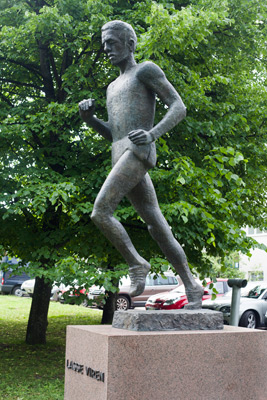 Terho Sakki: Lasse Viren, 1994. You may not use this photo for commercial purposes. © Photo: Helsinki Art Museum / Maija Toivanen