Istuva karhu / Sitting Bear
The history of the Sitting Bear has been a mystery for the Lauttasaari residents for decades. It is now situated in the yard of Isokaari 11, but above all has found a secure place in the heart of the school children. They come by to visit and greet the bear or to pose for photographs beside him. At the end of the school year he is brought roses. The sculpture is made of concrete.
The architect of the house at Isokaari 11 Else Aropaltio remembers that the widow Annie Rainio moved to an apartment in Isokaari in May 1950 and brought the sculpture with her. Mr. Rainio received the sculpture as a 60th birthday present in the year of 1935. In the Rainio family possession is an old photo of the family sitting around the bear sculpture.
The work doesn't belong to the collections of the Helsinki Art Museum.
Istuva karhu / Sitting Bear – Service Map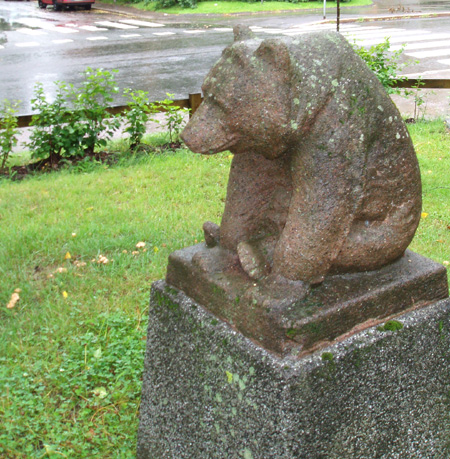 Sitting Bear. Artist unknown. You may not use this photo for commercial purposes. © Photo: HAM Helsinki Art Museum