Liekehtivä Fenix/ Flaming Phoenix
Meilahden yhteiskoulun ystävät ry, an alumni association of the Meilahti school, donated Marjatta Weckström's (1932-2017) relief `Flaming Phoenix' to the City of Helsinki on May 30, 1991. The deed of the donation states that the bronze relief symbolizes the power and optimism of spirit rising upwards. Typical of Marjatta Weckström, `Flaming Phoenix' is an abstract work. Yet it is easy to interpret it figuratively on the basis of the name, and to see a narrative reality in it. It is evident how important observations of nature are to the origins of Weckström's work.
The work belongs to the collections of the Helsinki Art Museum.
Liekehtivä Fenix/ Flaming Phoenix – Service Map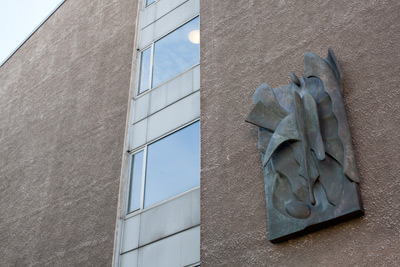 Marjatta Weckström: Liekehtivä Fenix/ Flaming Phoenix, 1991. You may not use this photo for commercial purposes. © Photo: Helsinki Art Museum / Hanna Kukorelli