Liian painavat vieraat / Too Heavy Guests
Maria Duncker's Too Heavy Guests consists of six animal-like figures made of stone blocks. The figures are installed in the grounds of a new business park in Salmisaarenranta.
Sculpted by hand from blasted blocks of stone, each creature is made of two or three pieces, reaching up to a height of 3 or even 5 metres. The crude forms hinting of prehistory combine with a carefully tooled surface. The surface has been carved with a chisel and painted with glittering colour. The shapes carved on the figures are sentimental: hearts, roses and stars. The motifs vary, lending each figure a unique character. Chains made of scrap iron adorn the figures.
A few of the creatures from Salmisaari could be seen on Yrjönkatu street outside the Amos Anderson Art Museum during the Ars Fennica exhibition in late 2008, and also near the Wanha kauppahalli at Eteläranta when Duncker had a solo exhibition at Gallery Sculptor in October 2009. In Salmisaari, the stone figures still await the final touches.The work was produced as part of the City of Helsinki Percent for Art programme.
It belongs to the collections of the Helsinki Art Museum.
Liian painavat vieraat / Too Heavy Guests – Service Map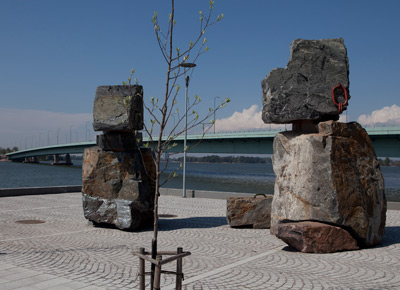 Maria Duncker: Too Heavy Guests, 2010. You may not use this photo for commercial purposes. © Photo: Helsinki Art Museum / Maija Toivanen