Lintuparatiisi / Bird Paradise
Bird Paradise consists of 82 birds cast in aluminium bronze that are mounted on the face of a rock cutting at Hirsipuukallio to form an irregular flock. Although the birds are roughly the same size, about 10-12 cm, they can be identified as species nesting in the Vanhankaupunginlahti bay. Each bird also carries an inscription giving the Latin abbreviation of the name of the species. Currently there are 82 species of bird nesting in the Viikki area, many of them rare.The artist wants the work to draw attention to the birds in the area and to the important scientific studies made of them.
The title Bird Paradise is borrowed from a book on the bird life in the area published by Leo Lehtonen. The first ornithological notes in Finland were made as early as 1832 by Magnus von Wright, who with his brother created a body of bird illustrations, regarded as a national heritage.
Vikberg's Bird Paradise was unveiled during the inauguration of Arabiankatu street on Helsinki Day, 12 June 2002. The sidewalk of the street follows the rock face so that pedestrians can study the birds at close quarters.
The work doesn't belong to the collections of the Helsinki Art Museum.
Lintuparatiisi / Bird Paradise – Service Map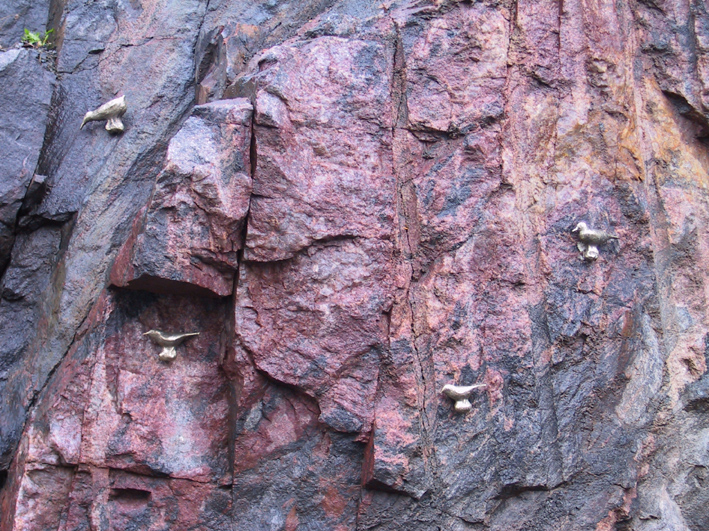 Jukka Vikberg: Bird Paradise, 2002. You may not use this photo for commercial purposes. © Photo: Helsinki Art Museum