Matias Aleksanteri Castrén (1813-52) was a scholar of Finno-Ugric languages, explorer and from 1851, the first professor of the Finnish language at the University of Helsinki.
In 1912, the Finno-Ugrian Society, the Finnish Literature Society, the Finnish Association for Antiquities and the Kotikielen seura (Home language association) organized a competition for a memorial to Castrén. The memorial was commissioned from Alpo Sailo.
The memorial is a 0,8 metre-high bronze bust set on a 3-metre high pedestal of red granite. It was unveiled in 1921.
The work doesn't belong to the collections of the Helsinki Art Museum.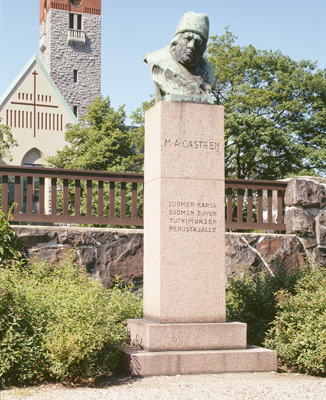 You may not use this photo for commercial purposes. © Photo: Helsinki Art Museum / Yehia Eweis