"Mother Earth" is a group of three figures depicting a mother holding a baby in her arms and facing her other child, a young boy, kneeling beside her. One of the mother's arms is resting across the legs of the baby while the other is raised to her bosom.
The bronze piece was completed in 1939. Johannes Haapasalo is especially well known for his numerous memorials to fallen soldiers, which he began to make in the 1920s. Religious themes are also typical of his classicist oeuvre.
The work doesn't belong to the collections of the Helsinki Art Museum.
Maaemo / Mother Earth – Service Map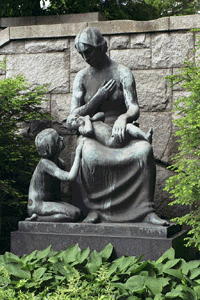 Johannes Haapasalo: Mother Earth, 1939. You may not use this photo for commercial purposes. © Photo: Helsinki Art Museum