Maailman rauha / World Peace
The work `World Peace', donated by the City of Moscow to the City of Helsinki, was unveiled on January 14, 1990. The donation was a part of the Cities' friendship and cultural exchange programme. Helsinki's gift to Moscow was Antti Neuvonen's sculpture `Friendship of the people' which was placed in a park specifically designed for donated sculptures. Kirjuhin's work is a good example of Soviet Socialist Realism. It comprises five figures representing the inhabitants of the five continents. The figures, supporting a globe decorated by foliage, are participating in a demonstration, fists raised in defence of peace. At the unveiling, Helsinki's Lord Mayor Raimo Ilaskivi noted in his speech that while the work is powerful and meaningful, it has caused much controversy.
The work is cast in bronze and 6.5 metres high with its pedestal. The work belongs to the collections of the Helsinki Art Museum.
Maailman rauha / World Peace – Service Map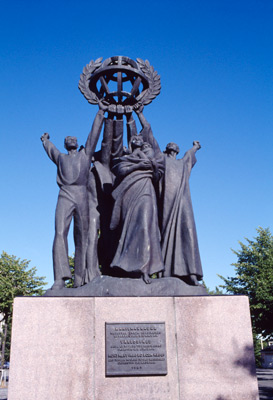 Oleg Kirjuhin: Maailman rauha / World Peace, 1990. You may not use this photo for commercial purposes. © Photo: Helsinki Art Museum / Hanna Rikkonen