"Mortuis" memorial commemorating the Vallisaari explosion of 1937
The obelisk stone memorial was designed by architect Elsi Borg.
"Mortuis" (meaning: For the dead, for the fallen) was erected on Suomenlinna in memory of the many victims of various disasters. The memorial is engraved with the years 1808, 1855, 1906, 1917, 1918, 1937 and was placed at the burial place of the victims of the Vallisaari explosion at the east side of Piiperi park.
The years engraved on the memorial refer to the following conflicts and disasters:
1808, The Finnish war against Russia and the capitulation of Viapori
1855, Early bombardments of the Crimean war
1906, The Viapori revolt
1917, Finnish independence (6th Dec 1917)
1918, Independent Finland takes control of the fortress and renames it Suomenlinna. A conflict prevails between Red and White forces which results in Red prisoners being held. The prisoners fall victim to malnutrition and disease and many die
1937, The explosion at Vallisaari
The work doesn't belong to the collections of the Helsinki Art Museum.
"Mortuis" memorial commemorating the Vallisaari explosion of 1937 – Service Map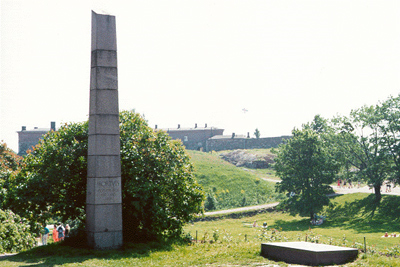 Elsi Borg: "Mortuis" memorial commemorating the Vallisaari explosion of 1937, 1951. You may not use this photo for commercial purposes. © Photo: Helsinki Art Museum