This sculpture by Pekka Jylhä (b. 1955) was unveiled on a low rocky outcrop on the west corner of Kaivopuisto park on Mother's Day 2010. The ceremonial unveiling in the chilly spring weather was attended by a large number of locals. The work belongs to the collections of the Helsinki Art Museum.
Polished to a golden sheen, the bronze piece depicts an expectant mother in a lace-hemmed dress, her left hand resting lightly on her softly swollen belly. The young mother is wearing sneakers and her socks have rolled down to her ankles. She has turned her eyes to look far out to the sea. An electric light inside the sculpture shines through the lace on her belly. The piece also includes a beach ball made of the same polished bronze as the female figure.
Expectation was donated by the Kesko Corporation to the City of Helsinki. The donation was Kesko's way of showing social responsibility for children, families, mothers and a safe future.
Odotus / Expectation – Service Map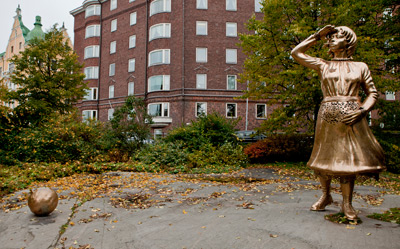 Pekka Jylhä: Odotus / Expectation, 2010. You may not use this photo for commercial purposes. © Photo: Helsinki Art Museum / Hanna Kukorelli