Olen itä olen länsi / I am east I am west
I Am East I Am West consists of a large gilt bird made of bronze that is attached by its wing to a column-like red-painted steel pipe. The piece is 5.5 metres high and the bird's wingspan is about 2 metres. The artist Pekka Jylhä (b. 1955) has described the work as follows: "This work of Environmental Art has emerged and developed from a life on the boundary between two cultures. In my childhood in Ostrobothnia, we lived between two strong religious sects separated by the Lestijoki river. Sometimes it felt like I was forced to live with two separate minds. On the other hand, the boundary was a no-man's land where the sects neutralized each other and life was freer and happier.
"An earlier version of this work is entitled Attack (Galleria Anhava, 1992) after Eetu Isto's painting of the same name from 1899. This earlier version consists of a two-headed black bird that symbolizes fear and danger. "I Am East I Am West is a golden (24 carat!) bird flying high in the sky, symbolizing the pursuit of cultural autonomy, like the flight of a bird that is free to choose its own route between two strong cultures. "The canal flowing into the Baltic, beside which the bird is about to land, is an important element of the piece." I Am East I Am West was unveiled on May 27, 1999. The work belongs to the collections of the Helsinki Art Museum.
Olen itä olen länsi / I am east I am west – Service Map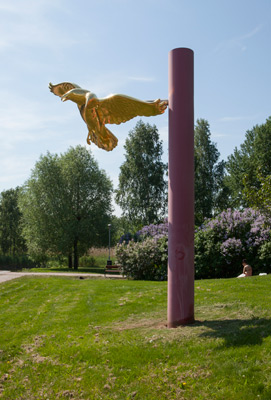 Pekka Jylhä: Olen itä olen länsi / I am east I am west, 1999. You may not use this photo for commercial purposes. © Photo: Helsinki Art Museum / Hanna Kukorelli