Paavo Nurmi (1897-1973) was a legendary Finnish runner. He broke 20 world records in various distances and, in total, won nine Olympic gold and three Olympic silver medals in the Antwerp (1920), Paris (1924) and Amsterdam (1928) Olympic Games.
The Finnish government commissioned a full-length statue of Paavo Nurmi from Wäinö Aaltonen (1894-1966) after the 1924 Paris Olympics. Although Nurmi modelled for Aaltonen they decided that the statue would not be a realistic portrait of Nurmi but a monument to the "Finnish runner". Nurmi's features were combined with aesthetically ideal ones. For instance, although Nurmi used the entire length of his soles when running, the statue runs lightly on its toes, giving its movement dynamic smoothness. The nudity of athletes' portrayal is a Classical ideal, copied in Finnish sculpture of the 1920's. Following the civil war, artists were inspired by the heroic and militant world of antiquity, as is seen in the themes and the classicist form favoured at the time.
Aaltonen was so enthusiastic about the statue that he already finished the clay modelin 1924. It was cast in bronze by Aukusti Veuro in 1925. Five full-length (2,2 metres) bronze casts were made of the statue. Four of the sculptures are in Finland. One is situated in front of the Helsinki Olympic Stadium and was erected in 1952. The work belongs to the collections of the Helsinki Art Museum. Others are at The Art Museum of Ateneum in Helsinki, at Jyväskylä University, and in the city of Turku. The fifth sculpture is in Lausanne, Switzerland.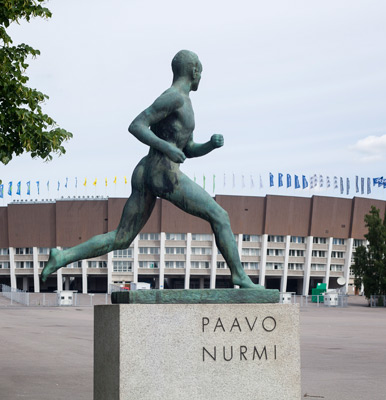 Wäinö Aaltonen: Paavo Nurmi, 1925. You may not use this photo for commercial purposes. © Photo: Helsinki Art Museum / Maija Toivanen