Rakuuna-reliefi / Commemorative relief for the Dragoon Regiment
In the early years of Finnish independence 1918-1921, the Uusimaa Dragoon Regiment was billeted in the Turku barracks in Helsinki. This plaque was mounted here to commemorate the fact. All that remains of the barracks today is this old utility building, which for a long time served as a bus station. One of its current occupants is the City Planning Department's info and exhibition space, Laituri. The bronze relief depicts a horse tie ring, which the artist associates with the horse in Field Marshal Mannerheim's equestrian statue. There are four symbols on the ring: the square dragoon emblem on top, a horse below, a dragoon sword to the right, and the traditional dragoon coat on the left.
The commemorative relief was unveiled on 7 September 2006. It does not belong to the collections of the Helsinki Art Museum.
Rakuuna-reliefi / Commemorative relief for the Dragoon Regiment – Service Map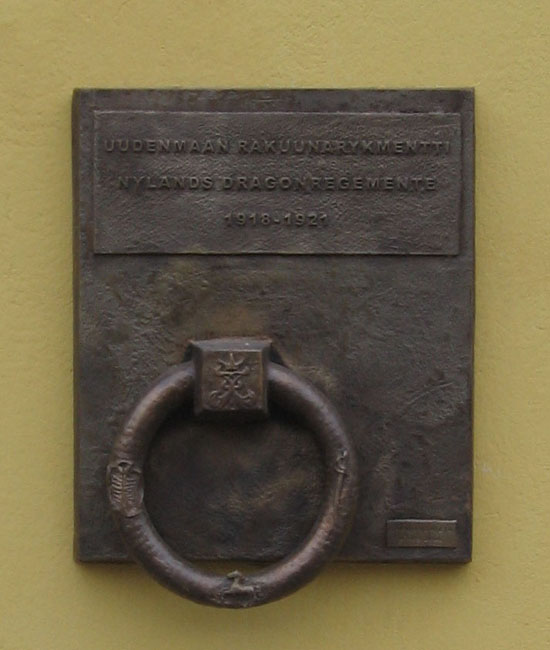 Jari Männistö: Commemorative relief for the Dragoon Regiment, 2006. You may not use this photo for commercial purposes. © Photo: Helsinki Art Museum