Eero Hiironen is an artist that wandered a long path: he first became known for his painting but, bit by bit, he moved into making sculptural works. At the end of 1966 he successfully started using mirrors and glass materials. Later he discovered that polished metal has many of the same qualities, but is more versatile and not brittle.
Hiironen works with the theme of water. He doesn't portray water as an element of the landscape, but rather as a 'thought' - as the vital element for all life. Even though he oftens draws inspiration from a lake at his home in Ähtäri, the works are not an expression of a local environment - they communicate rather a universal idea of the experience and qualities of water.
The steel frame sparkles like the surface of water whilst the centre makes it's background visible. The work is located at the back of the building by the pool, where the viewer can parallel the reflections of the water with that of the reflections in the water.
'Island' is a quadrat with an opening in the middle and is made from acid-proof, acidresistant steel and measures 120 x 118 cm. The work belongs to the collections of the Didrichsen Art Museum.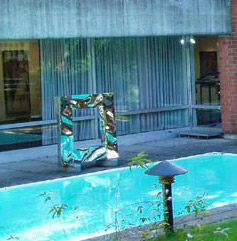 Eero Hiironen: Island (Saari), 1999. You may not use this photo for commercial purposes. © Photo: Helsinki Art Museum