Hannu Siren (b. 1953) won the sculpture competition for the cultural centre in Itä-Helsinki in 1981 and his work 'Stoa' was completed in 1984. The work became so noteworthy that the entire cultural centre was finally named after it. 'Stoa' was designed and realized in good cooperation with the building's architects. The figure and dimensions of the work were adjusted with the surroundings. Siren hoped that his work would represent the inner and outer space of a human being as well as time. His aims was to incorporate the viewer and those who entered the work with the work itself. Indeed, the four blue columns and the level platform invites one to circle around the work, to watch and to linger. It has become a popular landmark.
'Stoa' is made of rubble dyed with cobalt oxide. The four columns are 6 metres high. 'Stoa' is simultaneously a piece of sculpture and almost architecture. The name 'Stoa' is itself a reference to a dual role: in Greek, it refers to an arcade used as a meeting place beside the agora. While the piece is not representative, it contains multiple references. It is both an image and an experience of unity and balance between man and time.
The work belongs to the collections of the Helsinki Art Museum.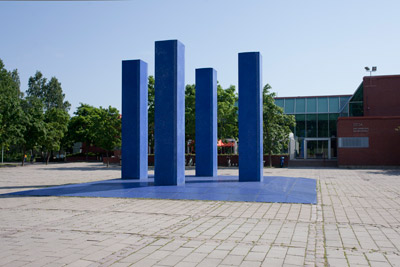 Hannu Sirén: Stoa, 1984. You may not use this photo for commercial purposes. © Photo: Helsinki Art Museum / Maija Toivanen