Suomalaisten sotilaiden hauta / Finnish Soldiers' Grave
The memorial in Vanha Kirkkopuisto (Old Church Park) was designed by sculptor Elias Ilkka and architect Erik Bryggman. The statue won the 1919 competition which called upon entries to design a statue to memorate the victims of the War of Independence. A year later, on 31st October 1920, the black-granite memorial was unveiled. The work belongs to the collections of the Helsinki Art Museum.
The bas-reliefs decorating the stone memorial are reminiscent of Greek art. They depict horse-riding youths and a youth holding the harnesses of a horse, based perhaps on the reliefs in the frieze of Parthenon in Athens. The Greek style reliefs are a choice with a symbolical content: in the early years of its independence Finland was likened to the small Greece fighting its gigantic eastern adversary, Persia. Finnish culture, in this sense, was considered the eastern outpost of Western culture.
In addition to the reliefs, the stone contains the following texts in Finnish and Swedish: "O beautiful land of the Fathers, For you in life and death, How sweet it is to sleep in your free soil." Further inscriptions, also in Finnish and Swedish read: "With gratitude from the City of Helsinki" and "Fallen in the liberation of Helsinki 12 IV 1918".The inscriptions cited above are followed by the names of the fallen soldiers.
Suomalaisten sotilaiden hauta / Finnish Soldiers' Grave – Service Map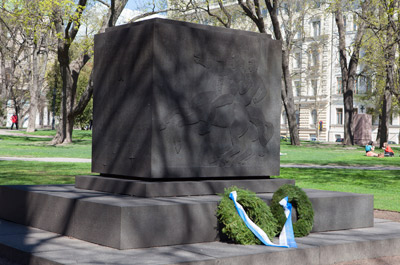 Erik Bryggman and Elias Ilkka: Finnish Soldiers' Grave, 1920. You may not use this photo for commercial purposes. © Photo: Helsinki Art Museum / Hanna Kukorelli